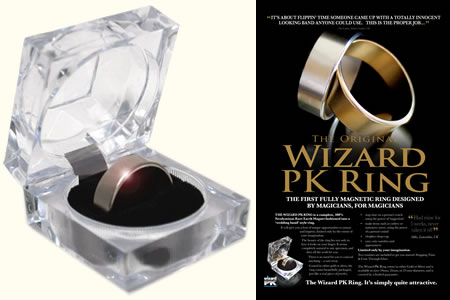 Description
A wonderful magnetic ring, which is very powerful and 100 % neodymium!!
Make coins or small metallic objects vanishing, moving, appearing, levitating…


Stop a watch second hands thanks to your "mental power".


This ring is perfect to perform matrix.


The uses are endless and the only limit is your imagination.

This ring with its basic design, such as a wedding ring, can be worn everyday and so on it allows you to perform you favourite routines in a completely impromptu way. You will ever find new uses for this ring.


It's the first ring which is completely magnetic. A unique object!!!

Wizard PK Ring is sold with two routine for training:

- Routine 1: Stopping Time
- Routine 2: Coin Through Glass



Color: Silver

Diameter: 18 mm.




Warning: The neodymium is a very powerful material but it's also breakable.

Do not use this ring if you wear a pacemaker.



Return to the catalogue