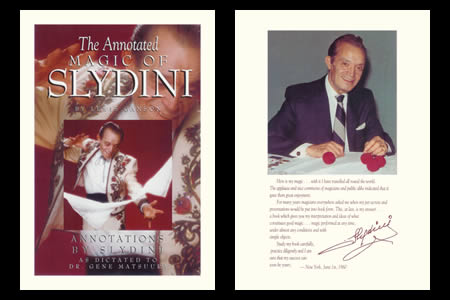 Description
Long unavailable, Lewis Ganson`s The Magic of Slydini is, perhaps, one of the most influential magic books ever.
Many of its routines have now become classics in magic, including Flight of the Paper Balls, Helicopter Card, Coins Through The Table, Slydini`s Knotted Silks, The Paper Balls in the Hat and others.
In this brand new edition, Slydini has some additional things to say about his creations.
Some time ago, Dr. Gene Matsuura went through the text of Ganson`s book with Tony Slydini and took careful notes as Slydini made valuable additions and observations.
The Annotated Magic of Slydini presents every word of
Lewis Ganson`s original text
, printed in black,
along with Slydini`s additions and corrections
, printed in blue, making this an invaluable and essential work even for those who own the original book.
Contents:
The art of using the lap as a servante – Position and timing

The art of using the lap as a servante – Misdirection

The paper balls in the hat

Slydini's new cigarette miracle

Two cigarettes from on

Ciragette fantasy

Sponge ball magic

Coins though the table

Slydini's new version of the coins through table

The flight of the paper balls

Rope trickery

The helicopter card

Slydini's knotted silks

Slydini's torn and restored newspaper


Language: English, 312 illustrated pages



Return to the catalogue
This item is no longer
sold on Magicaplanet