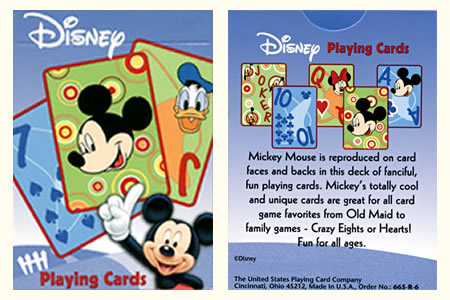 Description
A designed card deck about the famous Disney cartoon
Mickey Mouse
.
A gem created by Bicycle.
Meet the most famous character of cartoon history, Mickey Mouse, accompanied by his friends. A famous cartoon in a lovely card deck.
Get fun with Mickey Mouse and
Goofy
his best friend,
Minnie mouse
Mickey Mouse's mate and even
Donald Duck
the most famous duck.
The card faces have The card faces have the color indication in the lower left corner. The card values are originally written in each upper left corner and lower right corner. Mickey's head shadow appears in the upper right corner.
A pastel drawing appears on the card background.
The numbers are written in a designed way and the figures are represented by Mickey Mouse characters such as Goofy, Donald duck, Minnie Mouse and Mickey Mouse.
The card back is red with red and yellow circles portraying Mickey.

Original faces with Mickey Mouse's friends instead of traditional figures.

Two jokers with Pluto on a green background with red and yellow circles.

The spades and the clubs are in blue shade, The hearts and the diamonds are in green and red shades.

52 cards deck (plus two jokers) in Bicycle quality.



Return to the catalogue