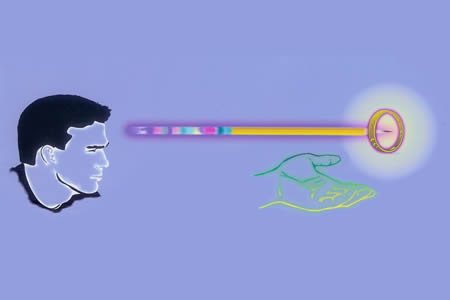 Description
An ordinary pencil is presented and a brass ring is placed on the pencil.
Mysteriously the ring levitates up the length of the pencil.
The pencil is then impossibly balanced horizontally on the Magician's finger, defying gravity and simple explanation.
It moves and balances with impossible grace and majesty as
the ring is passed over the pencil proving there are no connections.
The ring then mysteriously floats from the Magician's hand and over to the pencil!
After a graceful, hypnotic dance between the pencil and ring, the pencil is spun end over end and floats and spins out over the audience...
The Magician commands the pencil to return to this waiting hand for a thunderous applause.
Comes complete with pencil, ring, detailed instructions, and everything else needed to perform this amazing trick!Sizes:
Pencil Length: approximately 7,5 " (19 cm)
Ring Diameter: approximately 2 " (5 cm)

Return to the catalogue
This item is no longer
sold on Magicaplanet