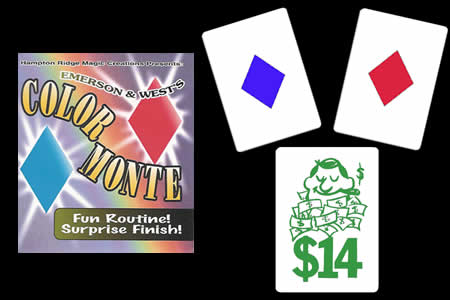 Description
This is a three card monte trick very original comprising, for the audience, 2 cards with a red diamond and 1 card with a blue diamond.
During the trick, the magician relates a journey to the states : "a man proposes me to wager 1 $ to find the blue diamond. I fail 7 times. So he proposes me to quit or to double. I accept. What a mistake : The card i choose was a joker. I lost 14 $ !
Bicycle card.

Poker size.

Delivered with a 4 flap card guard which can contain 4 small decks tricks.

C'est le tour de petit paquet qu'il faut avoir toujours sur soi car avec lui c'est le succés garanti!
L'étui est d'ailleurs très pratique à cet usage...et pour bien d'autres.
Return to the catalogue
This item is no longer
sold on Magicaplanet