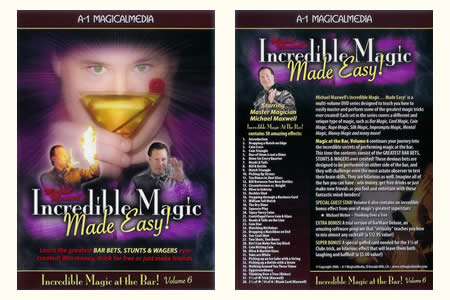 Description
Michael Maxwell's
Incredible Magic...Made Easy!
is a multi-volume DVD series designed to teach you how to easily master and perform some of the greatest magic tricks ever created!
Each set in the series covers a different and unique type of magic, such as
Bar Magic, Card Magic, Coin Magic, Rope Magic, Silk Magic, Impromptu Magic, Mental Magic, Money Magic and many more!
Magic at the Bar, Volume 6 continues your journey into the incredible secrets of performing magic at the bar.
This time the contents consist of the
greatest bar bets, stunts & wagers
ever created!
These devious bets are designed to be performed on either side of the bar, and they will challenge even the most astute observer to test their brain skills.
They are hilarious as well
. Imagine all of the fun you can have - win money, get free drinks or just make new friends as you fool and entertain with these fantastic mind-benders!
Volume 6 also contains incredible
bonus effects
from one of magic's greatest superstars:
Michael Weber - Thinking Over a Tree

EXTRA BONUS! A trial version of Barware Deluxe, an amazing software program that "virtually" teaches you how to mix almost any cocktail!

SUPER BONUS! A special gaffed card needed for Michael Maxwell's Anywhere Cards, an incredible effect wherein two selected cards magically travel to two impossible locations!



Contents:


Introduction

Dropping a Match on Edge

Coin Cross

Coin Triangle

One of them is not a Dime

Dime for Every Quarter

Heads & Tails

Bill & Bottle

Match Triangle

Picking Up Straws

Ten Dimes in Shot Glass

Bill Between Two Beer Bottles

Circumference vs. Height

Olive in Ashtray

Heckler Shot

Stepping through a Business Card

William Tell Match

The Dry Dime

Squeeze Play

Topsy-Turvy Coins

Centrifugal Force Coin & Glass

Heads & Tails on the Line

Coin Star

Matching Birthdays

Dropping a Matchbox on End

Ten-Cent Shot

Two Shots, Two Beers

Bet I Can Make You Say Black

Coin Hitting Coin

Olive & Martini Glass

Yoke are White

Picking up an Ice Cube with a String 33. Picking up a Bottle with a Straw

Walking Around You Three Times

Eggstraordinary

Thinking Over a Tree (Weber)

3 1/2 of Clubs Trick (Maxwell)

3 1/2 of Clubs Trick / 14 of Spades/ Blank Card (Maxwell)



Language: English, Running time: 1h25


Return to the catalogue
This item is no longer
sold on Magicaplanet