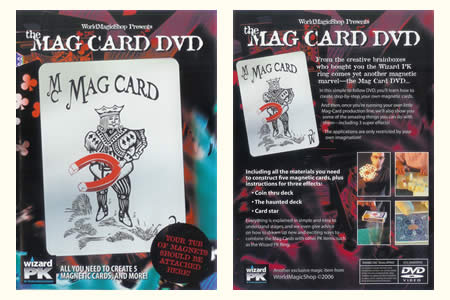 Description
From the creative brainboxes who bought the Wizard PK Ring comes yet another magnetic marvel –
The Mag Card DVD…
In this simple to follow DVD, you'll learn how to
create
, step-by-step,
your own magnetic cards.
And then, once you're running your own little Mag-Card production line, we'll also show you some of the amazing things you can do with them – including
3 super effects !
The applications are only restricted by your own imagination!
Including all the materials you need to construct five magnetic cards, plus instructions for three effects:
Coin thru deck

The haunted deck

Card star
Everything is explained and easy to understand and even give advice on how to
dream up new and exciting ways to combine the Mag Cards with other PK items
, such as the Wizard PK Ring.
30 min DVD

5 magnets (0.4 mm)

10 cards

In english

Return to the catalogue
This item is no longer
sold on Magicaplanet