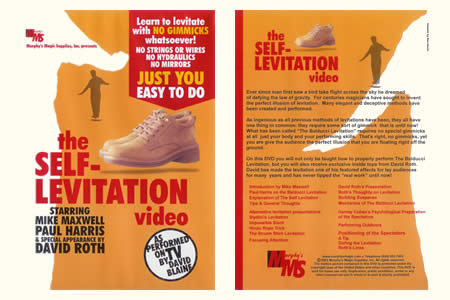 Description
Ever since man first saw a bird take flight across the sky he has dreamed of defying the law of gravity.
For centuries magicians have sought to invent the perfect illusion of levitation.
Many elegant and deceptive methods have been created and performed.
As ingenious as all previous methods of levitation have been, they all have one thing in common they require some kind of gimmick - That is, until now!
What has been called
The Balducci Levitation
requires no special gimmicks at all - just your body and your performing skills.
That's right,
no gimmicks
, yet you give the perfect iIIusion that you are floating right off the ground.
On this DVD
Michael Maxwell
not only teaches you how to properly perform The Balducci Levitation but he also shares exclusive inside tips from
David Roth
.
David has made the levitation one of his featured effects for lay audiences for many year and has never tipped the "real work" until now!
Contents:


Introduction by Michael Maxwell

Paul Harris on The Balducci Levitation

Explanation of the self levitation

Tips and General thoughts


Alternative levitation presentations

Slydini's levitation

Impossible stunt

Hindu rope trick

The broom stick levitation


Focusing attention

David Roth's presentation

Roth's thoughts on levitation

Building suspense

Mechanics of the The Balducci Levitation


Harvey Cohen's psychological preparation of the spectators


Performing outdoors


Positionning of the spectators

A tip

During the levitation

Roth's lines



Language
: English.

Return to the catalogue
This item is no longer
sold on Magicaplanet