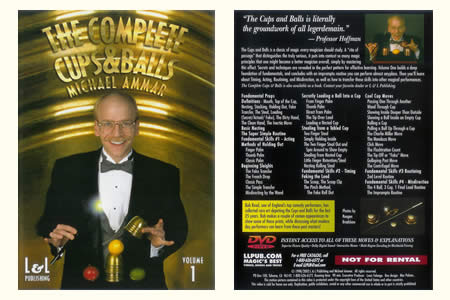 Description
The DVD format is absolutely perfect for learning the Cups & Balls.
Get to the move you're looking for with just a simple click, advance or rewind, frame by frame, to see every subtlety and nuance.
From building blocks to blueprints, you'll be able to
construct any type of routine needed!
Plus—three cameras watch from perfect angles showing the exact timing, techniques and misdirection needed for confident performing.
Volume one
builds a deep foundation of
fundamentals
, and concludes with an
impromptu routine
you can perform almost anyplace. Then you'll learn about
timing, acting, routining and misdirection
as well as how to transfer those silks into other magical performances.
Contents:


Fundamental Props


Definitions
- Mouth
- Top of the Cup
- Nesting
- Stacking
- Holding Out
- Fake Transfer
- The Steal
- Loading (Secret/Actual/ Fake)
- The Dirty Hand
- The Clean Hand
- The Inertia Move


Basic Nesting


The Super Simple Routine


Fundamental Skills #1 - Acting


Methods of Holding Out
- Finger Palm
- Thumb Palm
- Classic Palm


Beginning Sleights
- The Fake Transfer
- The French Drop
- Classic Pass
- The Simple Transfer
- Misdirecting by the Wand


Secretly Loading a Ball Into a Cup
- From Finger Palm
- Thumb Palm
- Direct from Palm
- The Tip Over Load
- Loading a Nested Cup


Stealing from a Tabled Cup
- Two Finger Steal
- Simply Holding Inside
- The Two Finger Steal Out and
- Spin Around to Show Empty
- Stealing from Nested Cup
- Little Finger Retention/Steal
- Nesting Rolling Steal


Fundamental Skills #2 - Timing


Faking the Load
- The Scoop, The Scoop Clip
- The Pinch Method,
- The Fake Roll Out


Cool Cup Moves
- Passing One Through Another
- Wand Through Cup
- Showing Inside Deeper Than Outside
- Showing a Ball Inside an Empty Cup
- Rolling a Cup
- Pulling a Ball Up Through a Cup
- The Charlie Miller Move
- The Mendoza Move
- Click Move
- The Flushtration Count
- The Tip-Off or "Fako" Move
- Galloping Post Move
- The Centrifugal Move


Fundamental Skills #3 Routining
- 2nd Level Routine


Fundamental Skills #4 – Misdirection
- The 4 Ball, 3 Cup, 1 Final Load Routine
- The Impromptu Routine



Language
: English,
Running time
: 1h30

Return to the catalogue
This item is no longer
sold on Magicaplanet