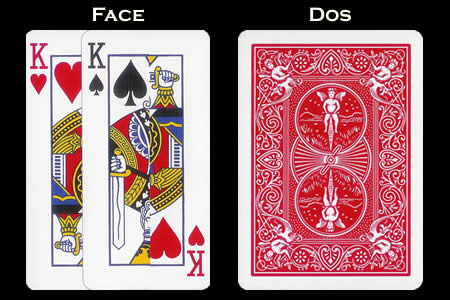 Description
This Bicycle card has a normal back but the face is rather original.

Indeed on his face you will see the King of hearts and spades arranged in ribbon. b>

You will be able for example after having lost the card of the spectator to take the first 5 of the game.

Make a small ribbon with these 5 cards and ask if the card of the spectator and well among them? The spectator will see very clearly his card among the 5.

Now take the cards with your fingertips and turn them face down. The viewer will immediately realize that a map has disappeared. Yet no suspicious gesture, no manipulation, there are only 4 b> cards out of 5 left.

Make a moment for doubts among your spectators then pay attention to your pocket, plunge in your hand and exit in the chosen card. b>

This effect is one of the possibilities that you will bring this card.


Printed by Bicycle b>.

Bicycle format: 63 x 88 mm.

Red Bicycle Back.
Return to the catalogue