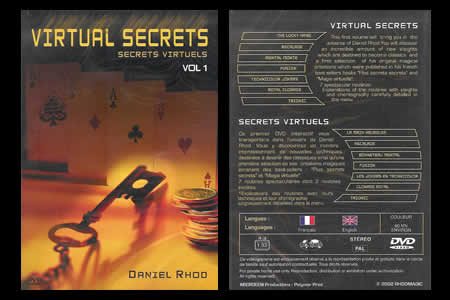 Description
The first volume will bring you in the universe of
Daniel Rhod
.
You will discover an incredible amount of new sleights which are destined to become classics and a first selection of his original magical creations which were published in his french best sellers books "Plus secrets secrets" and "Magie virtuelle".
Daniel Rhod
submit you 7 spectacular routines of which 2 are unpublished.
The lucky hand :
A spectator touches freely 4 cards. This cards are the 4 aces.


Ascalade :
The black aces are placed under the red aces. Then they go up inexplicably.


Mental Monte :
Divination of a card in impossible conditions.


Fusion :2 one dollar half coins become a single dollar coin.


Technicolor Jokers : 4 jokers with blue back return themselves and then their back are multicolored.


Royal Clonage : 4 white card transform into the cards choosed by the audience.


Trionic :3 coins appear and disappear in a very magic moment. Very impressive.



Explanations of the routines with sleights and choreography carefully detailed in the menu.


Languages : English / French.
Running time : about 60 minutes.
Standard :
PAL DVD.
Stereo.
Multiregion encoding for worlwide viewing.
Return to the catalogue
This item is no longer
sold on Magicaplanet