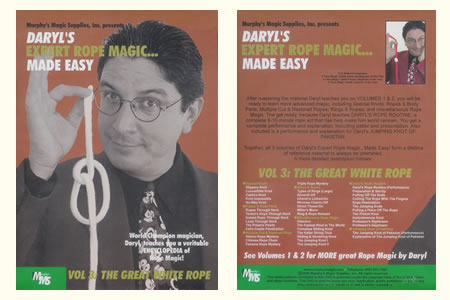 Description
Daryl, world renowned and World Champion magician, teaches you a veritable Encyclopedia of rope magic!
Volume 3
After mastering the material Daryl teaches on volume 1 & 2, you will be ready to learn more advanced magic including special knots, ropes and body parts, multiple cut and restored ropes, rings and ropes, and miscellaneous rope magic. The get ready because Daryl teaches
Daryl's rope routine
, a complete 8-10 minute rope act that has help make him world renown. You get a complete performance and explanation, including patter and presentation. Also included is a performance and explanation for Daryl's Jumping knot of pakistan.
Contents:
Special Knots
- Slippery Knot
- Convertible Knot
- Captive Knot
- Knot Impossible
- Nu-way Knot

Ropes & Body Parts
- Ropes Through Neck
- Ropes Through Neck II
- Tenkai's Rope Through The Neck
- Instant Rope Through The Neck
- Loop Through Neck
- The Priest's Pearls
- Cat's Cradle Penetration

Multiple Cut & Restored Rope
- Vishnu Rope Mystery
- Chinese Rope Chain
- Panama Rope Mystery
- Triple Rope Mystery

Rings & Ropes
- Types of Rings (Large)
- Anverdi-Off
- Chanin's Linked-On
- Reverse Chanin-Off
- Direct Throw-On
- Miller's Move
- Ring & Rope Release

Miscellaneous Rope Magic
- Dissolvo
- The Fastest Knot In The World
- Cornelius Sliding Knot
- The Kellar String Trick
- Sliding & Vanishing Knot
- The Jumping Knot I
- The Jumping Knot II

Daryl's Rope Routine
- Daryl's Rope Routine Performance
- Preparation & Set-Up
- Pulling Off The Ends
- Cutting The Rope With The Fingers
- Rope Restoration
- The Jumping Ends
- Pulling a Piece Off Of The Rope
- The Pretzel Knot
- Instantaneous Knot
- Professor's Nightmare
- Professor's Daydream

Jumping Knot of Pakistan Steve- it shows white knots jumping off red rope
- The Jumping Knot of Pakistan Performance
- Explanation for Jumping Knot of Pakistan


Language : English.



Return to the catalogue