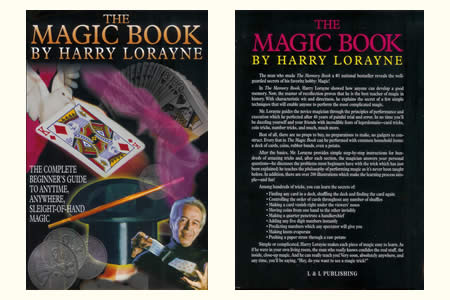 Description
Mr Lorayne guides the novice magician through the principles of performance and execution which he perfected after 40 years of paintful trial and error. In no time you'll be dazzling yourself and your friends with incredible feats of legdermain – card tricks, coin tricks, number tricks and much more.
Best of all there are no props to buy, no preparation to make, no gadgets to construct. Every feat in The Magic Book can be performed with common household items; a deck of cards, coins, rubber bands, even a potato.
After the basics, Mr Lorayne provides simple step by step instructions for hundreds of amazing tricks, and, after each section, the magician answer your personnal questions (he discusses the problem most beginners have with the trick wich has just been explained; he teaches the philosophy of performing magic as it's never been taught before. In addition there are over 200 illustrationswhich make the learning process simple and fun.
Among hundred of tricks you can learn the secrets of:
Finding any card in a deck, shuffling the deck and finding the card again.

Controlling the order of cards throughout any number of shuffles.

Making a card vanish right under the viewers' noses.

Moving coin from one hand to the other invisibly.

Making a quarter penetrate a handkerchief.

Adding any five digit numbers instantly.

Predicting numbers which any spectators will give you.

Making knots evaporate.

Pushing a paper straw through a raw potato.


Contents:


TIPS AND TECHNIQUES

CARD FLOURISHES

CARD HANDLING AND SLEIGHTS

SLEIGHT-OF-HAND EFFECTS AND ROUTINES

PRACTICALLY SELF-WORKING CARD ROUTINE

BASIC COIN SLEIGHTS

COIN MAGIC

NUMBER MAGIC

MENTAL EFFECTS

MISCELLANEOUS MAGIC



Language : English, Size : 15,9 x 23,7 cm, 306 illustrated pages.



Return to the catalogue
This item is no longer
sold on Magicaplanet