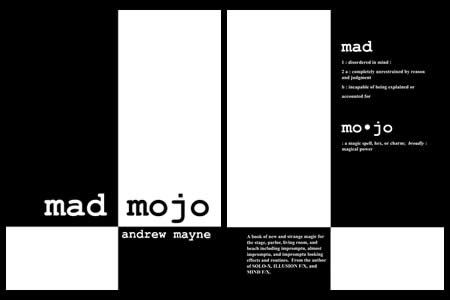 Description
The effect direction only requires a few accessories. They can be performed with cheap everyday objects : card decks, papers, towels, balloons, light bulbs, cellular phone…
No needs of advanced handlings, the effects can be performed by everyone, no difficulty and no risk.
The book includes 20 described effects or routines, very different each other, but with a strong impact on the audience.
Contens:
Flyer (transform a paper ball in paper plane).

Pyro Flight (find a spectator ring in a matchbox).

Tea Ceremony (an original routine for tea time).

Stand-up Aces (a routine with aces, without special handling).

Ripped up (an impromptu card routine without cards).

Razor-Blades & Barbed Wire (the razor blades routine for children).

Newspaper (the paper ball routine with an original end).

One Vicious Paper Cut (illusion or not, you loose your head).

Lights Out (find a light bulb in your shoe).

A Cool Thing to do when you have a Towel on your Head (1) (a turning head routine).

A Cool Thing to do when you have a Towel on your Head (2) (direclty beheaded).

Phone Scam (a selected card revealed by phone).

Rain (Water in confettis).

Ice Nine (water in ice).

A-Wave (a "B 'Wave" version by Max MAVEN without gimmicked cards).

Lit (a wizard type effect).

Implosion (where is the ball, where is the straw?)

Twister for One (illusion or not, your wrist completly turn).

They only come out at Night (disappearing photo).

Mutant Balloon Dogs (an original balloon sculpture).


Language : English, Size : 21,7 x 28 cm, 93 illustrated pages.



Return to the catalogue
This item is no longer
sold on Magicaplanet