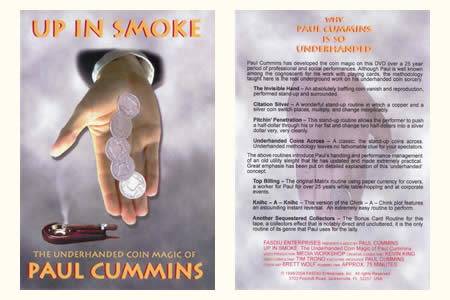 Description
Paul CUMMINS
has developed the coin magic on this DVD over a 25 year period of professional and social performances. Although Paul is well known among the cognoscenti for his work with playing cards, the methodology taught here is the real underground work on his underhanded coin sorcery.
CONTENTS :
The Invisible Hand
An absolutely baffling coin vanish and reproduction, performed stand-up and surrounded.


Citation Silver
A wonderful stand-up routine in which a copper and a silver coin switch places, multiply, and change inexplicably.


Pitchin' Penetration
This stand-up routine allows the performer to push a half-dollar through his or her fist and change two half-dollars into a silver dollar very, very cleanly.


Underhanded Coins Across
A classic : the stand-up coins across. Underhanded methodology leaves no fathomable clue for your spectators.


Top Billing
The original Matrix routine using paper currency for covers, a worker for Paul for over 25 years while table-hopping and at corporate events.


Knihc – A – Knihc
This version of the Chink – A – Chink plot features an astounding instant reversal. An extremely easy routine to perform.


Another Sequestered Collectors
The Bonus Card Routine for this tape, a collectors effect that is notably direct and uncluttered, it is the only routine of its genre that Paul uses for the laity.


Language : English, Running period: approx. 75 min.



Return to the catalogue
This item is no longer
sold on Magicaplanet