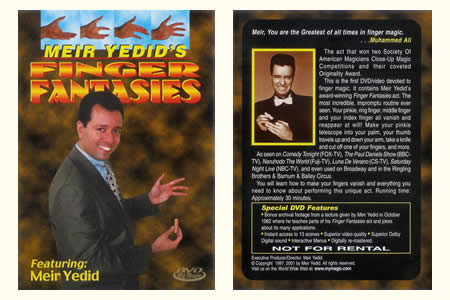 Description
Meir YEDID
's « Finger Fantasies » act won two "Society Of American Magicians" Close-Up Magic Competitions and their coveted Originality Award.
This is the first DVD devoted to finger magic. It contains
Meir YEDID
's award-winning "Finger Fantasies" act. The most incredible, impromptu routine ever seen.
Your pinkie, ring finger, middle finger and your index finger all vanish and reappear at will ! Make your pinkie telescope into your palm, your thumb travels up and down your arm, take a knife and cut off one of your fingers, etc.
As seen on "Comedy Tonight" (FOX-TV), "The Paul Daniels Show" (BBC-TV), "Naruhodo The World" (Fuji-TV), "Luna De Verano" (CS-TV), "Saturday Night Live" (NBC-TV), and even used on Broadway and in the "Ringling Brothers & Barnum & Bailey Circus".
Language :
English,
Running time
: approximately 30 min.

Return to the catalogue
This item is no longer
sold on Magicaplanet