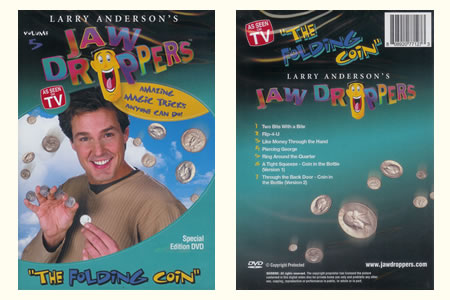 Description
The Jaw Droppers DVD shows each trick performed by expert close-up magician
Larry Anderson
, followed by a step-by-step explanation of the trick. You too can amaze your own friends with very little practice! Learn just one Jaw Dropper and make just one impression, and you'll see how much this DVD is really worth!
"With these Jaw Droppers, you can make an impression that people will remember for years to come. There's no better way than magic to break the ice with business contacts, new friends, or someone special you want to connect with."
Larry Anderson.
Larry created this special video around one of the most ingenious magic props ever devised - the Folding Coin. Used by professional magicians to perform mind-blowing tricks like taking a bite out of a quarter or making a borrowed coin penetrate through solid glass into a bottle!
Contents:
Two-Bits With a Bite

Flip-4-U

Like Money Through the Hand

Piercing George

Ring Around the Quarter

A Tight Squeeze - Coin in the Bottle (Version 1)

Through the Back Door - Coin in the Bottle (Version 2)

Comes complete with Folding Quarter DVD PLUS the precision-cut Folding Quarter.


Language: English, Time: 40min.


Return to the catalogue
This item is no longer
sold on Magicaplanet