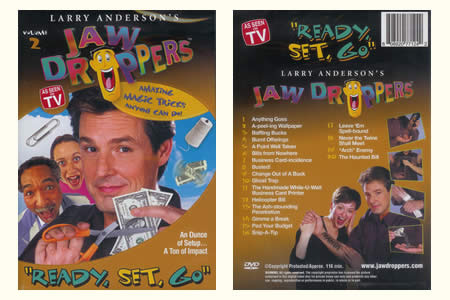 Description
The Jaw Droppers DVD shows each trick performed by expert close-up magician
Larry Anderson
, followed by a step-by-step explanation of the trick. You too can amaze your own friends with very little practice! Learn just one Jaw Dropper and make just one impression, and you'll see how much this DVD is really worth!
"With these Jaw Droppers, you can make an impression that people will remember for years to come. There's no better way than magic to break the ice with business contacts, new friends, or someone special you want to connect with."
Larry Anderson.
Contents:
Anything Goes

A-peel-ing Wallpaper

Baffling Bucks

Burnt Offerings

A Point Well Taken

Bills From Nowhere

Business Card-incidence

Busted!

Change Out of a Buck

Ghost Trap

The Hand-Made While-U-Wait Business Card Printer

Helicopter Bill

The Ash-stounding Penetration

Gimme a Break

Pad Your Budget

Snip-A-Tip

Leave 'Em Spell-Bound

Never the Twine Shall Meet

"Arch" Enemy

The Haunted Bill


Language: English, Time: : 116 min.



Return to the catalogue
This item is no longer
sold on Magicaplanet