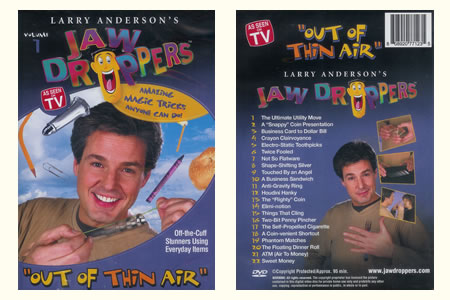 Description
The Jaw Droppers DVD shows each trick performed by expert close-up magician
Larry Anderson
, followed by a step-by-step explanation of the trick. You too can amaze your own friends with very little practice! Learn just one Jaw Dropper and make just one impression, and you'll see how much this DVD is really worth!
"With these Jaw Droppers, you can make an impression that people will remember for years to come. There's no better way than magic to break the ice with business contacts, new friends, or someone special you want to connect with."
Larry Anderson.
Contents:
The Ultimate Utility Move

A "Snappy" Coin Penetration

Business Card to Dollar Bill

Crayon Clairvoyance

Electro-Static Toothpicks

Twice Fooled

Not So Flatware

Shape-Shifting Silver

Touched By An Angel

A Business Sandwich

Anti-Gravity Ring

Houdini Hanky

The "Flighty" Coin

Elimi-notion

Things That Cling

Two-Bit Penny Pincher

The Self-Propelled Cigarette

A Coin-venient Shortcut

Phantom Matches

The Floating Dinner Roll

ATM (Air To Money)

Sweet Money


Language: English, Time: : 95 min.


Return to the catalogue
This item is no longer
sold on Magicaplanet