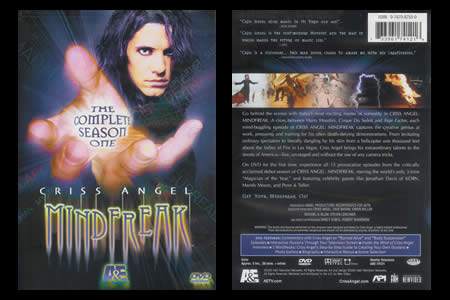 Description
Go behind the scenes with today's most exciting master of surreality in CRISS ANGEL MINDFREAK.
A cross between Harry Houdini, Cirque du soleil and Fear Factor, each mind-boggling episode of CRISS ANGEL: MINDFREAK captures the creative genius at work, preparing and training for his often death-defying demonstrations.
From levitating ordinary spectator to literally dangling by his skin from a helicopter one thousand feet above the Valley of Fire in Las Vegas, Criss Angel brings his extraordinary talents to the streets of America – live, un-staged and without the use of any camera tricks.
On DVD for the first time, experience all provocative episodes from the critically acclaimed debut season of Criss Angel: Mindfreak, starring the world's only 3-time "magician of the year", and featuring celebrity guest like Jonathan Davis of Korn, Mandy Moore and Penn&Teller.
Criss Angel kicks magic in its tired old ass!
-
Rob Zombie
Criss Angel is the post-modern Houdini and the man in whose hands the future of magic lies
-
MTV
Criss is a visionary... this man never ceases to amaze me with his creativeness.
-
Jonathan David, KORNLanguage
: English.

Return to the catalogue
This item is no longer
sold on Magicaplanet