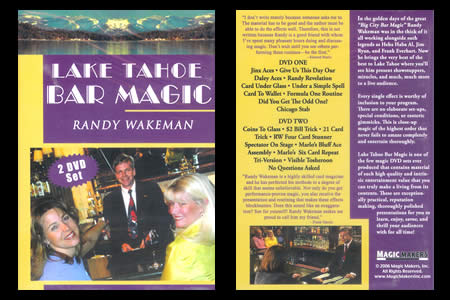 Description
Randy Wakeman is one of the magic legends. Now he brings the very best of the best to Lake tahoe where you'll see him present showstoppers, miracles, and much, much more to a live audience.
Every single effect is worthy of inclusion to your program. There are no elaborate set-ups, special conditions, or esoteric gimmicks. This is close-up magic of the highest order that never fails to amaze completely and entertain thoroughly.
Lake tahoe Bar Magic is one of the few magic DVD sets ever produced that contains material of such high quality and intrinsic entertainment value that you can truly make a living from its contents. These are exceptionally practical, reputation making, thoroughly polished presentations for you to learn, enjoy, savor, and thrill your audiences with for all time!
Contents:
DVD 1:
+ Jinx Aces
+ Give Us This Day Our Daley Aces
+ Randy Revelation
+ Card Under Glass
+ Under A Simple Spell
+ Card To Wallet
+ Formula One Routine
+ Did You Get The Odd One?
+ Chicago Stab

DVD 2:
+ Coins To Glass
+ $2 Bill Trick
+ 21 Card Trick
+ RW Four Card Stunner
+ Spectator On Stage
+ Marlo's Bluff Ace Assembly
+ Marlo's Six Card Repeat
+ Tri-Version
+ Visible Tosheroon
+ No Questions Asked


Language: English.

Return to the catalogue
This item is no longer
sold on Magicaplanet