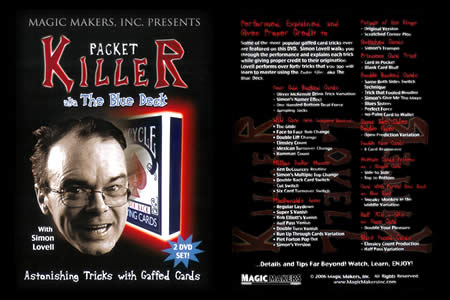 Description
Simon Lovell walks you through the performances and explains each trick while giving proper credit to their origination.
Lovell performs over forty tricks that you too will learn to master using the Packet Killer, aka The Blue Deck. His add-ons and improvements take things to new levels!
Contents:
DVD 1

+ Four Odd Backed Cards
- Oliver McKensie Drink Trick Variation
- Simon's Namer Effect
- One Handed Bottom Deal Force
- Jumping Jacks

+ Wild Card (With Complete Routine)
- The Glide
- Face to Face Rub Change
- Double Lift Change
- Elmsley Count
- Mexican Turnover Change
- Hamman Count

+ Million Dollar Monte
- Ken DeCourcey Routine
- Simon's Multiple Top Change
- Double Back Card Switch
- Cut Switch
- Six Card Turnover Switch

+ MacDonald's Aces
- Regular Lay down
- Super S Vanish
- Bob Elliott's Vanish
- Half Pass Vanish
- Double Turn Vanish
- Run Up Through Cards Variation
- Piet Forton Pop Out
- Simon's Version

+ Parade of the Kings
- Original Version
- Scratched Corner Ploy

+ Switched Cards
- Simon's Transpo



DVD 2

+ Princess Card Trick
- Card in Pocket
- Blank Card Bluff

+ Double Backed Cards
- Same Both Sides Switch Technique
- Trick that Fooled Houdini
- Simon's Give Me The Mayo
- Blues Sisters
- Perfect Force
- No-Palm Card to Wallet
- Easy Card to Wallet
- Ghost of a Chance

+ Same Both Sides Double Facer
- Open Prediction Variation

+ Double Face Cards
- 8 Card Brainwave

+ Multiple Cards Printed on a Single Card
- Side to Side
- Top to Bottom

+ Card With Partial Red Back on Blue Back
- Sneaky Monkey in the Middle Variation

+ Card With JD's on Back
- Jack on The Run

+ Half 7C's & 5H's on Face Card
- Double Your Pleasure

+ Blank Faced Cards
- Elmsley Count Production
- Half Pass Variation


Language: English, 2 DVD, 1 Deck.




Return to the catalogue
This item is no longer
sold on Magicaplanet