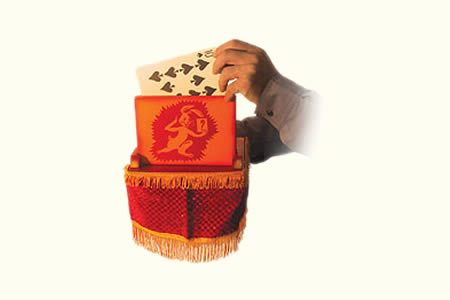 Description
Explain to your spectators that you will vanish a jumbo card between two plates.

For an improved effect, you set up a small theatre stage with a lovely red curtain.

Now you set up two thin plates between which you introduce the jumbo card.

Then you say some magic words and remove the two plates. You can show them on both sides, the card has vanished!

Unfortunately, you make an error and you strip off the curtain… Everybody can see the card below the small stage, which is hanged by two cloth thongs.

Now you'll intent to do the trick again, without any mistakes. You completely strip off the curtain.

The audience is totally amazed... The jumbo card has really vanished.

Only the cloth thongs remains, you can even give the curtain for examination.

At the end you find the card in a spectator's bag (or anywhere you want).


Very visual and automatic trick!

Very easy to do.

Trick in painted wood, very good quality.

Delivered complete.


Return to the catalogue