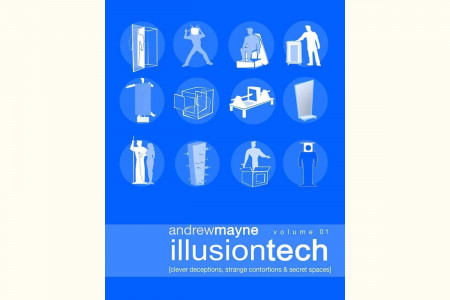 Description
Learn how to build new and exciting illusions for $1 to $10,000 by understanding basic illusion principles.

Andrew Mayne's newest book features several new creations along with re-worked classic illusions that help teach you how to think like an illusionist.

In the first instalment of the series you'll discover the methods of secret spaces, contortions and deceptions as they apply to Magic Illusions.


Contents:



Theory of illusion
- The illusionist is a hacker
- Optical deceptions
- Observationals deceptions
- Anatomy of an illusion


Clever deceptions
- Mental misdirections
- The confusion illusion
- Hyperjump
- The magic doorway
- The acme paching case appearance
- Heavy metal
- Darklight


Strange Contortions
- The body is a mysterious thing
- Sawing a person in half
- The $1.00 head twister effect
- The sword basket
- Brain damage
- The box of blades
- Umbrella cabinet


Secret Spaces
- Hiding the body
- The tip-over trunk
- The modern cabinet
- The cage illusion
- The ghost box
- The elongated man
- Masking depth
- The trick base
- Fake base
- How to fake a beveled base
- The $99 beveled base
- The crusher
- Other base application
- Walking through a steel plate
- Beyond the base
- The zero zone
- Deceptive steps
- The elevated vanish


Language: English, Format : 21,4 x 27,5 cm, 120 illustrated pages.
Return to the catalogue