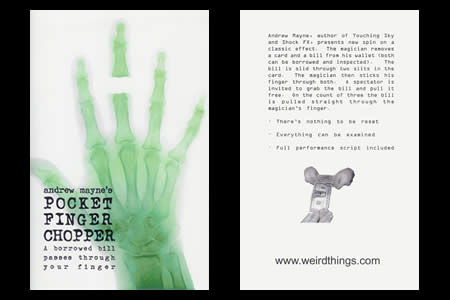 Description
This booklet was specially created by Andrew Mayne in order to contest to impromptu situations.
So, instead of performing a traditional card trick, amaze your friends (and even your audience if you want) thanks to this trick coming from the unbridled imagination of Andrew Mayne.
You show a card and a bill that you prepare in front of the audience. After cutting some slits, you pass the bill though the card and then you finger through the centre slits you've just performed.
Then you ask a spectator to pull on the bill and… surprise! Your finger has passed through the bill, and there is no marks on it!!
This booklet explains in detail the effect, how to prepare the card and the bill. Then it learns you the secret and gives you an original history accompanying the routine.
Advantages :
All the secrets of this extraordinary routine.
Detailed descriptions.
Small advices very clever.
A personal style of the artist.
Delivered with French translation.


Language : french and english, Size : 14 x 21,7 cm.

Return to the catalogue
This item is no longer
sold on Magicaplanet