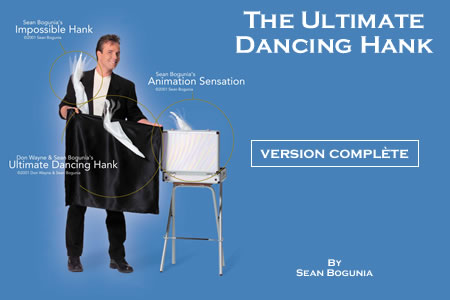 Description
What can be as fantastic as bringing an object to life?
This is the complete routine of the famous dancing hank from
Sean Bogunia
, including the 3 following tricks:
- The Animation Sensation.
- The Ultimate Dancing Hank.
- The Impossible Hank.
This set will allow you to perform a complete routine allowing you to move a silk as you wish it.
Thanks to its
complete autonomy
you can do what you want meanwhile the silk is dancing, jumping… This also allows adding a comic touch to the world renowned dancing hank.
With this trick,
Sean Bogunia
give you the opportunity to create numerous routines, only limited by the imagination.
The remote control will allow you to select the desired program far from the device.
The trick is programmable and so on automatic. You don't need assistance.
This trick will enjoy and amaze all kinds of audiences.
It enables a lot of incredible effects.


Example of routine:

First the handkerchief will slowly go out the briefcase and you will take it with another large silk. Then you can even put it inside a bottle in which it will remove the cap to jump into your arms.

You can also take it and put in onto your shoulders, into your pocket or even on the table where it's still dancing, following the rhythm.

Return to the catalogue
This item is no longer
sold on Magicaplanet