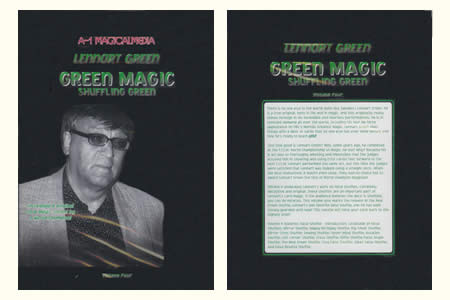 Description
See the magic that has made Lennart Green famous worldwide!
He competed at the FISM world chiampionship of magic and ... he lost. Indeed he is so amazing that the juges accused him of using trick cards.Then he performed the same act with an ordinary deck and won. You can imagine how he masters magic!
Volume 4 showcases Lennart's work on false shuffles. Extremely deceptive and original, these shuffles are an important part of Lennart's card magic. If the audience believes the deck is shuffled, you can do miracles. This volume also marks the release of the Real Green Shuffle, Lennart's pet favorite false shuffle, one he has kept closely guarded until now! This volume will raise your card work to the highest level!
Included in the DVD are:
False Shuffle - Introduction

Cavalcade of False Shuffles Demonstration

Mirror Shuffles

Happy Birthday Shuffle

Big-Small Shuffle

Mirror Cross Shuffle

Never-Mind Shuffle (Cross Shuffle, Rotation Shuffle, Left Corner Shuffle, etc.)

Riffle Shuffles/False Angle Shuffle

The Real Green Shuffle

Slug False Shuffle (Hidden Stock Shuffle)

Joker False Shuffle

False Rosetta Shuffle

Arranging Shuffles


Language : English. Multizone Dvd




Return to the catalogue