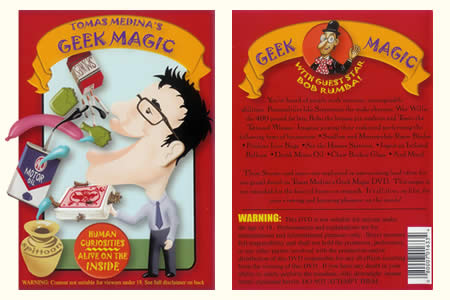 Description
Remember the amazing performances that many times have amazed and disgusted you, a men that drinks motor oil, another that eats glass… This performances mainly inspired Thomas Medina in the conception of this DVD, Geek Magic.
CONTENTS:
Ingest an inflated balloon
You eat your own balloons!!


Produce live bugs
You ask a spectator to choose a card and to introduce it back in the deck. You then assume that bugs have eaten the card because you can't find it: suddenly bugs come out from the deck. You take one bug and crush it between two cards (of course it's not real). Then you pick up a card from the deck that looks like the selected one. You turn it: the bug blood indicates the name of the card on the reverse part.


Chew on broken glass
You show a glass bottle that you break before eating the pieces of glass!


Drink motor oil
Rinse your mouth with a glass of motor oil.


Swallow and manipulate razor blades
Swallow four razor blades and a string. Chew up and pick up from you mouth the four blades on the same thread.


And much more very amazing routines.

This DVD is not suitable for anyone under the age of 18. Buyer assumes full responsibility for any ill effects resulting from the viewing of this DVD.


Time : 130 min, Language : English multizone DVD


Return to the catalogue
This item is no longer
sold on Magicaplanet