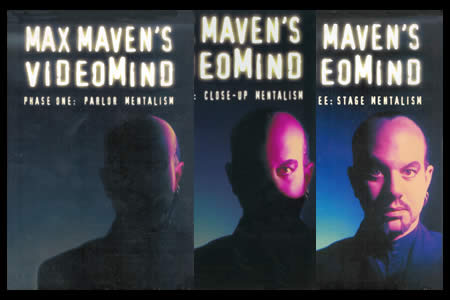 Description
Max Maven
can read in your mind as he would do with a book. This incredible master of mentalism give us the privilege to understand and to learn all his art with
all his experience in only 3 DVD.
Recap of the 3 DVD:
Dvd 'Max Maven's Videomind phase 1'
First, watch Max MAVEN in performance with an unrehearsed audience. See why television's Entertainement Tonight dubbed him "the master mindreader", and the New York Daily News proclaimed, "This guy can read you like an open book". Later, Max is joined by Eugene BURGER for a private discussion in which the detailed secrets are revealed-including some that have been held back for many years.



Contents:
The Mockingbird A sampling from the fabled "Birds of Prey" series. At its core, an inexplicable demonstration of playing card telepathy – but you'll discover how audience participation and an unfolding plot structure can transform an already strong effect into a full-fledged routine.
Autome An extraordinary book test using plain, ungimmicked props under the fairest conditions. This is a remarkable routine in and of itslef, but is also introduces principles for which you'll find a host of other applications.
Divine Write (Previously unrevealed) Mutual mentalism with built-in appeal. The performer tries an imposing experiment in clairvoyance, working simultaneously with a member of the audience. Despite the overwhelming odds, the outcome is successful – for both !
Zenvelopes A test in intuition using several participants and a number of ESP symbol cards hidden inside opaque envelopes. These are thoroughly mixed by the spectators, who then pair them off by playing their hunches. When the contents are examined, all of the symbols have matched up perfectly.
Kurotsuke (Previously unrevealed) An ancient game from the imperial court of Japan is turned into a delightful routine of stand-up mentalism that lets several people get involved. And, best of all, it can be done entirely impromptu using only borrowed materials.
The mind's eye deck A pack of some 40 design cards is used. Each one is different, and the deck is shuffled. While the performer's back is turned, a spectator removes a card. Without turning around, the mentalist starts describing the thought-of design, eventually drawing it on a pad of paper. It's as straightforward as that.
Dvd 'Max Maven's Videomind phase 2'
First watch Max Maven in performance with unhearsed participants. See why the New York Times declared that his "category-defying mindreading show veers into conceptual art", and the Chicago Tribune defines him as "wonderfully esoteric".
Later, Max is rejoined by Eugene Burger for a private discussion in which the detailed secrets are revealed - Including some that have been held back for many years.
Contents:
Shape up (previously unrevealed): One card has been removed from an ESP deck. A person is invited to deal through the rest of the pack, turning cards face-up one by one and stopping at any time. The stopped-at symbol is the same as on tha card that was previously set aside.

Changeling: A pleasingly simple routine using a handfull of ordinary coins, in which the mentalism successfully predict how many coins will be selected by the spectator.

Isolation: The participant chooses which of several unprepared magazines will be used. That is opened to a random page, from which a random word is noted while the performer's head is turned away. In a convincing telepathic display, the mentalist extract the word from the person's mind.

Key to the future: An amiable variation on the classic "Seven Keys to Baldpate" effect using an ungimmicked padlock and several keys, only one of which can open the lock. This time,it is the spectator whose psychic abilities are tested. Will the working key be located - and will the performer know the outcome in advance ?

Symbalance (previously unrevealed): A standart pack of ESP symbol cards is employed along with two participants. The mentalist divines the first person's thought-of design. He then discerns the second person's symbol with an offbeat demonstration of "tactile intuition".

Positive Negative: A lesson in spectator management., in the form of an engaging bit of prognostic pantomime with a baffling payoff. Better yet, it is completely impromptu - you can do it with a moment's notice using borrowed items.

The Hawk: Another impossible card routine from the "Birds of Prey" series. Two spectators select and replace cards while the performer's back is turned. They also shuffle the deck. Neverless, the mentalist deals through the face-down pack and stops on one selection, then tops that by promptly naming the other.



Dvd 'Max Maven's Videomind phase 3'

First watch Max Maven in performance and see why People magazine praised his « new form of participartory theatre » and why the Los Angeles Times hailed his "improvisational skill… enhanced by a charismatic animal magnetism". Ater, ax is joined by Eugene Bruger for a private discussion in which the detailed secrets are revealed.



Contents:


Goal Mine Previously unrevealed
This is an ideal opener : a routine of mental persuasion that serves to establish the performer's credentials, get several audience members involved, has a climax that virtually guarantees laughter and applause.


Tossed-Out Tech Previously unrevealed
One of the most valuable techniques of mentalism has also been one of the least understood (until now). This section covers an effect that has been a feature item in Max Maven's professional repertoire for over two decades. This is not a basic description, it is an in-depth analysis and knowledge developed during thousands of performances. The disclosed information constitutes a virtual "post-graduate" course in mentalism.


Khan Artist Previously unrevealed
The performer forecasts how members of the audience will rearrange a set of symbols. The props are so uncomplicated… it is no wonder that this simple effect has hoodwinked some of the keenest mind in the business.

Contimental
Could there be a more direct exhibition of mindreading? A spectator thinks of an international location, the mentalist reveals it. There's no advance work, nothing is written down… you can even perform this over the telephone.


Psign
A prediction, quick and to the point. A large board is displayed back-out. A spectator selects one of the different designs which proves to be the very one printed on the front of the board. The participant can stay seated in the audience, leaving the performer alone on stage.


Language: English - Multizone DVD.
Return to the catalogue
This item is no longer
sold on Magicaplanet