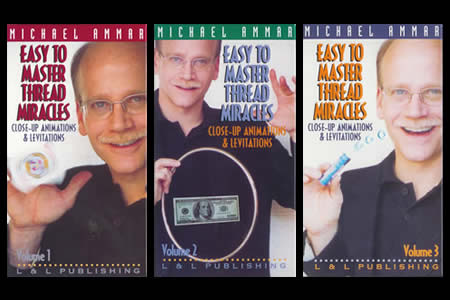 Description
This set of
3 DVDs
is proposed by the famous
Michael Ammar
, who will learn you a lot of miracles for close-up. For instance you will
learn all what you need to know about the levitation mystery
that you will be able to perform closer to your amazed audience.
The DVD :
Dvd Easy to Master Thread Miracles - Vol.1
The history begins with one of the latest magic style – the incredible invisible elastic thread created by
DuPont
patented in 1959. You will discover what it is, where you can find it and the amazing things performable with it. You will be able to create your own surprising tricks and perform levitations anywhere at anytime.
Contents:
Section One – Introducing Elastic Thread
Section Two – Accessing the Threads
Section Three – Magic With Invisible Elastic
- Tahoe Tessie and the Magic Postcard
- The Rising Business Card
- Whirling Business Card
- Dan Harlan's Financial Attraction
- Ammar's Portable, Permanent Wallet Hookup


Section Four – Finn Jon's Elastic Loops
- Phenomenon Fork
- Finn Jon's Bill That Falls Up
- The Floating Bill
- Electrostatic Straw
- Things That Affect Thread Visibility


Section Five – Visible but Hidden Threads
- Stefan Schuster's Self-Folding Bill with Kicker, featuring Ammar's Self-Contained Wallet Hookup
- Acrobatic Matchbox


Section Six – The Traditional Reel
- Knot Absolutely Instant
- Knot Automatically Undone
- Clearly Penetrated Mike Stand


Section Seven – James George Interview
- Comparing Every Available I. T. R.
- Care and Management



Dvd Easy to Master Thread Miracles - Vol.2

In this DVD you will find ideas of performances with the invisible thread reel of James GEORGE, and methods to make flying objects passing through a solid circle.


Contents:


Section 1 – Magic Using the I. T. R.
- Finn Jon's Mystery Nut and Bolt ala I. T. R
- The Chop Cup Application
- Dave Nelson's Dollar Bill Flight
- I. T. R. Floating Bill
- The Perfect Practice Hookup
- Open Face Hookup
- Z Grip to Lock the Thread
- Hoop Pass
- Rotating Hoop Pass
- Bloom's Balancing Card
- Robert Henry's Ashra Coin
- I. T. R. Whirling Card


Section 2 – The One-Hand Hookup
- Al Baker's Erectile Bill
- Socrate's Personal Chi Power


Section 3 – The LeClair Hookup
- Floating Bill
- The Whirling Card


Section 4 – The One Point Hookup
- The Animated Straw
- The Coin in Beer
- Baker's Card from Hat
- Whirling Card
- Baker's Ring on Pencil


Section 5 – John Kennedy's
- Stealth Retractor
- Ammar's Threading the Needle
- Care and Feeding of the Stealth Retractor
- Rising Business Cards
- Rising Card
- Self-Turning Page


Section 6 – Bonus Guest Star James George
- The Floating Pencil
- Tips & Theory
- Why Threads Break and How To Avoid
- Practicing with Threads
- Controlling Your Space
- The Hierarchy of Astonishment


Dvd Easy to Master Thread Miracles - Vol.3

There is more possibilities with the invisible thread than with any another magic item. This Dvd will learn you how to store, transport and use the invisible threads you use in you shows.


Contents:


Performance
- Floating Bill
- The Super String Theory


Section One - Thread Strength According to Similar Diameters
Section Two - Securing the Ends, Separating Individual Strands
Section Three – Storing and Transporting
- Simple Playing Card
- Finn Jon System
- John Kennedy's Z-Webs & Mini-Z-Webs
- The Pin & Straw System
- Sticky Mat Solution
- John Haar's Deck Gimmick
- Clear Plastic Sticks
- Lifesaver Holders
- Wine Bottle Hookups—Corks, Ribbons, Clear Tubes
- Under-Bar Bobbins
- Mike-Stand Holders


Section Four – The Horizontal Two-Point Hookup Explanation
- The Floating Bill
- The Super String Theory


Section Five –The Steve Fearson Hookup
- The Floating Lifesaver
- James George's Floating Spinning Ball



Language: English - Multizone Dvd.



Return to the catalogue
This item is no longer
sold on Magicaplanet