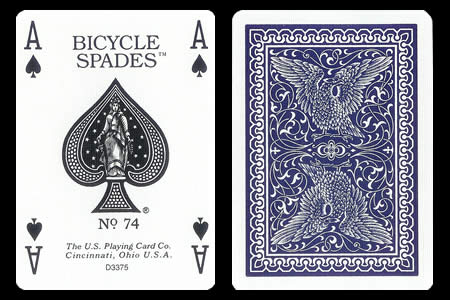 Description
This is the
Bicycle version of the "Spades" card game
. The famous bicycles have disappeared and have been replaced by two angels with spread out wings. Moreover the spades have their value indicated in the four card corners.
You can also be a Bicycle "Spades" player… begin to play!
The American people enjoy the "Spades" for its fastness and its fascinating strategies! The simple rules make the "Spades" a perfect game for the whole family. The "Spades" has the same fascinating characteristics as the "bridge" or the "pinochle" (strategy, wagers and high scores) without being so complex. Moreover you'll enjoy the Bicycle vantages: customized trump cards, standardized rules, winning strategies and a lot of alternatives.
Original back to be different from the other magicians.

Available with blue or red backs.

Return to the catalogue
This item is no longer
sold on Magicaplanet