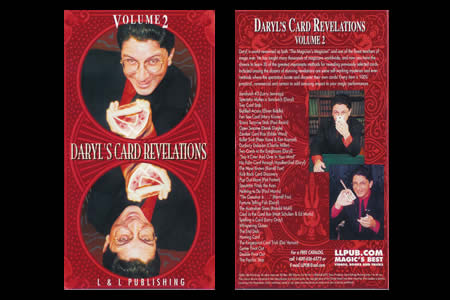 Description
Daryl
is world renowned as both « The Magician's Magician » and one of the finest teachers of magic ever. He has taught many thousand of magicians worldwide, and now you have the chance to learn 30 of the greatest impromptu methods for revealing previously selected cards. Included among the dozens of stunning revelations are some self-working mysteries and even methods where the spectators locate and discover their own cards ! Every item is 100% practical, commercial and certain to add amazing impact to your magic performances.
CONTENTS :
Sandwich #3 (Larry JENNINGS)


Spectator Makes a Sandwich (Daryl)


Two Card Stab


Biddled Across (Elmer BIDDLE)


Fan See Card (Mary KINSON)


Rosini Surprise Stab (Paul ROSINI)


Open Sesame (Derek DINGLE)


Zombie Card Rise (Eddie WARD)


Bullet Trick (Peter KANE & Ken KRENZEL)


Dunbury Delusion (Charlie MILLER)


Two Cards in the Eyeglasses (Daryl)


"Say It Over And Over In Your Mind"


No Palm Card through Handkerchief (Daryl)


The Nose Knows (Karrell FOX)


Kick Back Card Discovery


Pop Out Move (Piet FORTON)


Spectator Finds the Ace


Nothing to Do (Paul MORRIS)


"The Question Is …" (Karrell FOX)


Fortune Telling Fish (Daryl)


The Australian Sixes (Ronald WOHL)


Card in the Card Box (Matt SCHULIEN & Ed MARLO)


Spelling a Card (Larry GRAY)


Whispering Queen


The End Stab


Homing Card


The Fingerprint Card Trick (Dai VERNON)


Center Pivot Out


Double Pivot Out


The Psychic Stop





Language :english.



Return to the catalogue
This item is no longer
sold on Magicaplanet