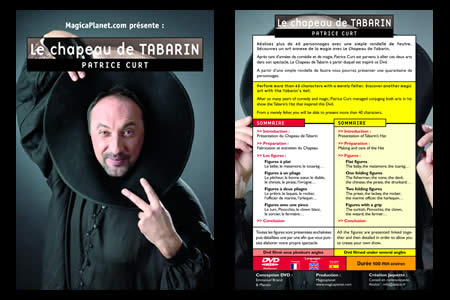 Description
After so many years of comedy and magic,
Patrice Curt
managed conjuring both arts in his show "the Tabarin's Hat" that inspired This Dvd.
From a merely felt washer, you will be able to present more than 40 characters.
In this
DVD of MAGICAPLANET's production
all the figures are presented linked and then detailed one by one in order to allow you to create your own show. Moreover for a better understanding, it is film under several angles and presented in three languages; so you will be able to see in detail each manipulation.
CONTENTS:
Introduction
- Presentation of Tabarin's Hat


Preparation
- Making and care of the Hat


Figures
- Flat figures
The baby, the matamore the tuareg …

- One folding figures
The fisherman, the none, the devil, the chinese, the pirate, the drunkard …

- Two folding figures
The priest, the lackey, the rocker, the marine officer, the harlequin …

- Figures with a grip
The turkish, Pinnochio the clown, the wizard, the farmer …


Languages : French, English, Spanish - Time : 100 min - multizone DVD.




Return to the catalogue
This item is no longer
sold on Magicaplanet