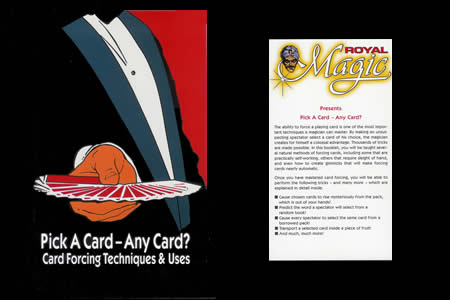 Description
With card forces, thousand of amazing tricks are made possible.
With this booklet learn several methods of forcing cards, sleights of hands and even how to create gimmicks that will make forcing cards nearly automatic
Contents:
Methods of forcing playing cards.
- The classic force, Criss-cross force, 10-20 force, Hindu force, Riffle force, Dribble force, Bill Simon's two-card force, Slip force, Equivoque, Novel three card force, Undercover (handkerchief) force, Ala Hofzinser, Short card, Short card variation.


Tricks.
- Card in orange, Forceful book test, Almost impromptu brainwave, Rising cards, Find the five, Simplified card stab, Hank's card trick, Miraculous ashes, Business card prediction, The ghost card, One th(K)ing in mind, Two minds – a single thought, The spelling bee, Lie detector, Le carte generale

These tricks will allow you to :

Cause chosen cards to rise mysteriously from the pack, which is out from your hands.

Predict a word a spectator will select from a random book.

Cause every spectator to select the same card from a borrowed pack.

Transport a selected card inside a piece of fruit.


31 illustrated pages.English language.



Return to the catalogue
This item is no longer
sold on Magicaplanet