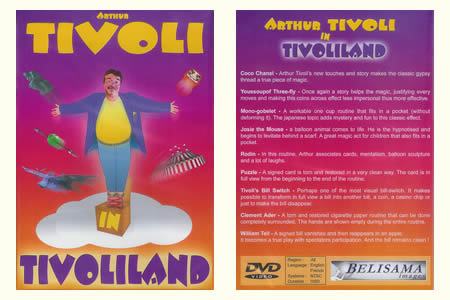 Description
This is the new DVD of
Arthur Tivoli
named « Tivoliland », that presents with humor and poetry different close –up, saloon, but also stage effects.
Indeed, even if
A.Tivoli
is known for its famous balloon sculptures, he is also a experienced magician. This DVD is the proof of his magic talent.
CONTENTS:
Coco Chanel : The Arthur Tivoli personal touch and history make this classic trick of "cut and restored" a really original work. Indeed it can be performed with audience very closer to the performer.


Three-fly Youssoupof : A routine without any gimmicked coin, based on a history to justify every move and to focus the attention on the effects in order to make this routine personal and efficient.


Mono-gobelet : A routine with a cup that adapts to a pocket (without deforming it). The japanese atmosphere adds mystery, poetry and entertainment to this classical effect.


Josie la souris : A balloon is changed into a animal that becomes alive and levitates behind a silk. A magic trick very sympathetic for the children (moreover it is very small).


Rodin : In this routine, Arthur Tivoli mix cards, mentalism, balloon sculpture and laughs.


Puzzle : A signed and teased card is restored very quickly. The card is visible from the beginning of the routine till the end.


Tivoli's Bill Switch : This is one of the bill changes the most visual. It allows the magician to change a bill in another, in a coin, in a card o merely to vanish it.


Clément Ader : A routine of cigarette paper cut and restored, very impressive!. The hands can be shown to be empty.


Guillaume Tell : A signed bill vanished to appear in an apple! All this routine is performe with audience participation. Moreover the bill is still clean!


Language : French, English - Time :1h 50mn – Multizone DVD.




Return to the catalogue
This item is no longer
sold on Magicaplanet