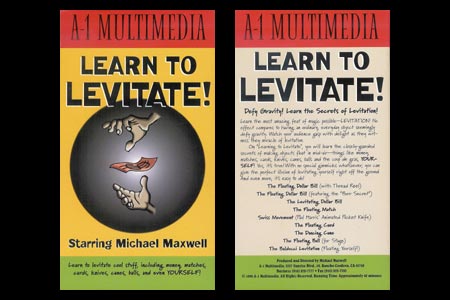 Description
Vous allez apprendre le secret très protégé de la lévitation.
Vous allez faire léviter toute sorte d'objets tels que des billets, des allumettes, des cartes, des couteaux, des cannes, des balles, et finalement VOUS-MEME !
Oui, vous allez donner l'illusion parfaite que vous êtes en train de flotter dans les airs. Et bien plus encore,
c'est facile à faire !AU SOMMAIRE :
The floating Dollar Bill (with thread reel)

The floating Dollar Bill (featuring the Burr secret)

The levitating Dollar Bill

The floating Match

The Swiss Movement (Paul Harris' Animated pocket knife)

The Floating Card

The Dancing Cane

The f=Floating Ball (for stage)

The Baducci Levitation (Floating yourself)
Langue :
Anglais -
Durée :
Environ 40 min.

Return to the catalogue
This item is no longer
sold on Magicaplanet