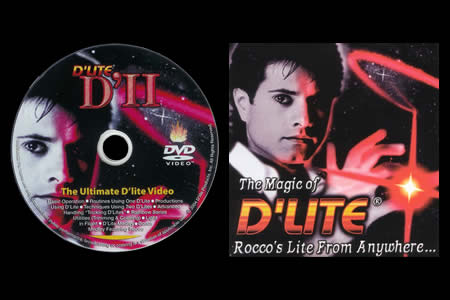 Description
Red D'lite Deluxe (pair)
Make a red light appearing, eat it, make it travelling through your body, switch it off as you desire!
D'Lite is probably one of the magic gimmicks the most incredible of the last years.
Thanks to a D'lite you will be able to:
Make a light appearing at the fingertips, wink it and switch it off when desired;

Swallow this light and get it back in your ears!

Blow on the light… that switch off!
With two D'Lite, you will be able to:
Pass a light from one hand to the other;

Split the light in two;

Make the light pass through different objects (silk, etc.)
Even if the D'Lite has an improved effect in places with low luminance (such as nightclubs), you will also be able to use it in places with normal luminance due to its strong light.
This gimmick no requires any accessory neither any battery (they are provided ready for use).
This is one of the most amazing visual effects.
With the
light ears
you will be able to maintain this strange light in one of your ears and then pass it to the other… a fabulous effect.
The Ultimate D'Lite DVD
Thanks to the DVD discover all the possibilities performable with these weird flying lights..
DVD in English.
Contents:
Basic Operation
Routines Using 1 D'Lite
Productions Using 1 D'Lite
Routines / Techniques Using 2 D'Lite
Advanced Handing "Tricking D'Lite"
Rainbow Serie D'Lite
D'Lite Utilities (Trimming, Coloring)
Light in Flight
D'Lite Medley
Bonus Medley Featuring Rocco

Language: English - Running time: 37min.



Return to the catalogue
This item is no longer
sold on Magicaplanet