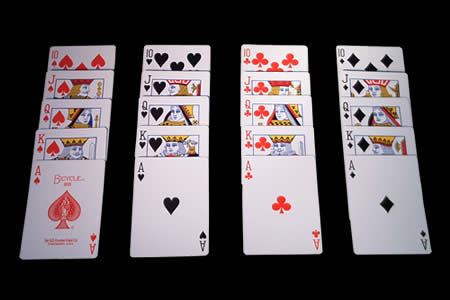 Description
Someone would have thought about it… Bicycle just did it!!!
These 20 cards are very special because the
colors are reversed…
Indeed the spades and the clubs are printed in red whereas the hearts and the diamonds are printed in black!!!
A lot of uses are possible…
The deck is sold alone in his case, but find below some ideas for a better use!
These cards can be used as well as in magic tricks as in gags!
With this game you'll win all your bets:
- What is this card???
- The 4 of spades.
- You lost, it's the 4 of hearts!!
Or…
Ask a spectator to choose a card in a deck and to loose it inside the deck. The magician finds the card thanks to its powers and makes a magic move that change the card colour… The selected card (for instance the 10 of spades) becomes red…
20 special cards delivered in a Bicycle card case.
Poker size:
63 mm * 88 mm

Return to the catalogue