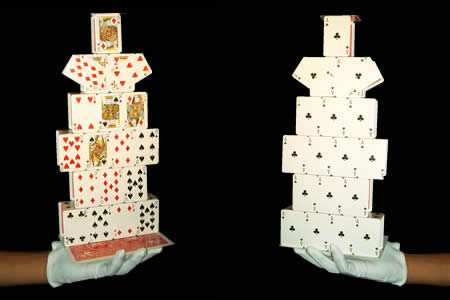 Description
The magician comes on the stage with an envelope containing a prediction. The spectator chooses one card, then he loses it in the game. Assuming the card is the spade knave.
The magician opens the envelope and removes a jumbo card from it… but the card is not the chosen one.
While he tries to hide his anxiety,
he turns over the jumbo card and changes it into a card castle…
asking to the spectator if he sees the chosen card among the castle. One more time he fails; to a great end
he turns over the castle and on the reverse side, all the cards are similar to the chosen card: the spade knave!
Very original.

Surefire effect.

A visual effect not bulky

Castle size :
- height: 40 cm (15.74'')
- Width: 17,5 cm (6.88'')
- Depth: 11,5 cm (4.52'')




Return to the catalogue
This item is no longer
sold on Magicaplanet