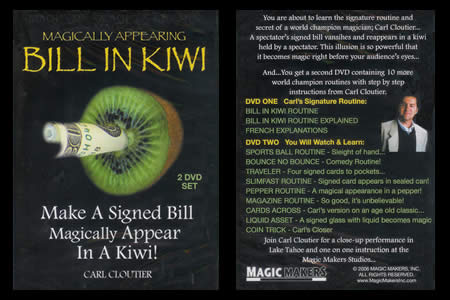 Description
LEARN THE TRICK CLOUTIER PERFORMED ON NBC'S "THE WORLD'S GREATEST MAGIC"...
You are about to learn the signature routine and
secret of a world champion magician; Carl Cloutier....
A spectator's sign bill vansihes and reappears in a kiwi
held by a spectator. This illusion is so powerful that
it becomes magic right before your audience's eyes...
You also get a second DVD containing 10 more world champion routines with step by step instructions from Carl Cloutier. Join Carl Cloutier for a close-up performace in Lake Tahoe and one on one instructions at the Magic Makers Studios...
DVD ONE
Bill In Kiwi Routine

Bill In Kiwi Routine Explained

French Explainations


DVD TWO


Sports Ball Routine - Sleight of hand...

Bounce No Bounce - Comedy routine!

Travler - Four signed cards to pockets...

Slimfast Routine - Signed card appears in sealed can!

Pepper Routine - A magical appearance in a pepper!

Magazine Routine - So good, it's unbelievable!

Cards Across - Carl's take on an age old classic...

Liquid Asset - A signed glass



Language : English and French - Multizone DVD.

Return to the catalogue