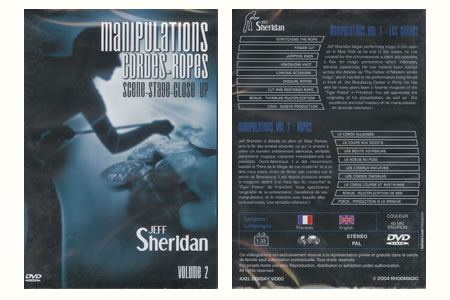 Description
Jeff SHERIDAN
began performing magic in the open air in New York at the end of the sixties. He has created for the circumstances a silent act revealing a flair for magic pantomime which indeniably attracts passers-by. He has recently been named across the Atlantic as 'The Father of Modern street magic' which has led to this performance being filmed in front of the Beaubourg Center in Paris. He has also for many years been a favourite magician of the 'Tiger Palast' in Frankfurt. You will appreciate the originality of his presentation, as well as the excellence and total mastery of his manipulations. An absolute reference!
CONTENTS :
Stretching the rope

Finger cut

Jumping Ends

Vanishing knot

Linking scissors

Inequal ropes

Cut and restored rope

Bonus : thimbles multiplication

Coin : sleeve production




Language : English, French - Running Time : 60 min.




Return to the catalogue
This item is no longer
sold on Magicaplanet