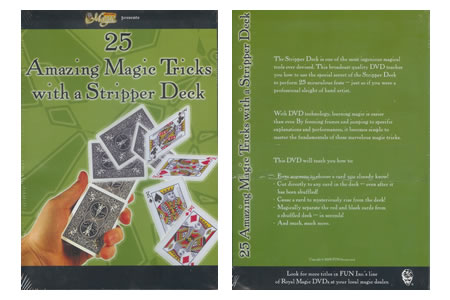 Description
The Stripper Deck is one of the most ingenious magical tools ever devised. This broadcast quality DVD teaches you how to use the special secrets of the Stripper Deck to perform 25 miraculous feats – just as if you ware a professional sleight-of-hand artist.
With DVD technology, learning magic is easier than ever. By freezing frames and jumping to specific explanations and performances, it becomes simple to master the fundamentals of these marvellous magic tricks.
This DVD will teach you how to :
Force someone to choose a card you already know !

Cut directly to any card in the deck – even after it has been shuffled !

Cause a card to mysteriously rise from the deck !

Magically separate the red and black cards from a shuffled deck – in seconds !

And much much more…



Language : English.



Return to the catalogue
This item is no longer
sold on Magicaplanet