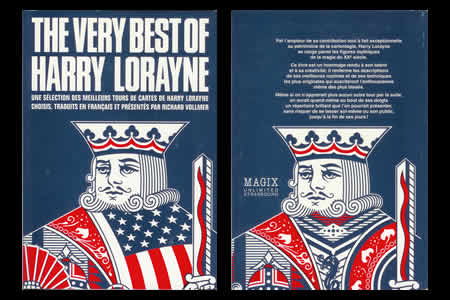 Description
Par l'ampleur de sa contribution tout à fait exceptionnelle au patrimoine de la cartomagie, Harry LORAYNE se range parmi les figures mythiques de la magie du XXe siècle.
Ce livre est un hommage rendu à son talent et à sa créativité ; il renferme les descriptions de ses meilleures routines et de ses techniques les plus originales qui susciteront l'enthousiasme même des plus blasés.
Même si on n'apprenait plus aucun autre tour par la suite, on aurait quand même au bout de ses doigts un répertoire brillant que l'on pourrait présenter, sans risquer de se lasser soi-même ou son public, jusqu'à la fin de ses jours !


AU SOMMAIRE :


Out of this Universe

Out of this World impromptu

Out of this World Memory

Supplément à Hummer

Une prédiction stupéfiante

Les voyageuses fantastiques

A travers la table

Le crayon mouvant

Pseudo-mémoire N° 1

Pseudo-mémoire N° 2

Stop !

Epellation contrôlée

Fantaisie en rouge et noir

Le sandwich des valets borgnes

Supplément au sandwich des valets borgnes

Le Grec et les quatre joueurs

Magicien contre tricheur

Extraordinaire découverte d'une carte

Le filage à l'enfoncement

Triple changement

Tally-Ho !

Les As Tally-Ho

Le mélange statu-quo

Les six australiens

Toujours plus loin

Localisation suprême

Le tour du paresseux

Affinités

Volte-face magnétiques

Le défi du spectateur

Menez-moi à votre chef

Les As de Vernon

La 29e carte

Découvertes par imbrication

Un demi pharaon de plus !

Petit pharaon rapide, et suite

L'indicatrice pharaon étrangère

As et rois

Coïncidence en couleur

Coloration rapide

Sandwich à la Lorayne

La donne en second d'une main de Harry LORAYNE


Format : 16,5 x 23,5 cm - Illustré - 255 pages.



Return to the catalogue