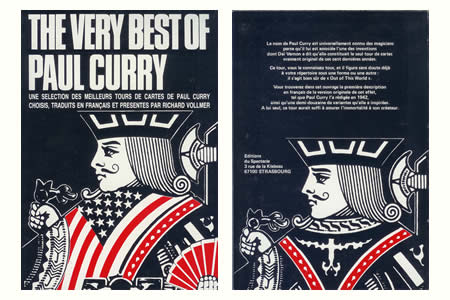 Description
Le nom de
Paul CURRY
est universellement connu des magiciens parce qu'il lui est associée l'une des inventions dont
Dai VERNON
a dit qu'elle constituait le seul tour de cartes vraiment original de ces cent dernières années.
Ce tour, vous le connaissez tous, et il figure sans doute déjà à votre répertoire sous une forme ou une autre : il s'agit bien sûr de "Out of This World".
Vous trouverez dans cet ouvrage la première description en français de la version originale de cet effet, tel que
Paul CURRY
AU SOMMAIRE :
Le problème de la 13e carte

Un marché de dupes

Mission impossible

The great switcheroo

Les femmes sciées

Top of the heaps

Le murmure du joker

Le testament de Houdini

Le pari

Le détecteur de mensonges

Télépathie

Télékinésie

Lecture de pensée

Précognition


Out of this world ... and beyond !
- Préambule
- Out of this world
- Le meilleur des mondes possibles
- Mindmaster
- La roulette aux cartes
- L'expérience psychique de Scarne
- Le talisman
- Sources

Format : 16,5 x 23,5 cm - Illustré - 116 pages.




Return to the catalogue
This item is no longer
sold on Magicaplanet