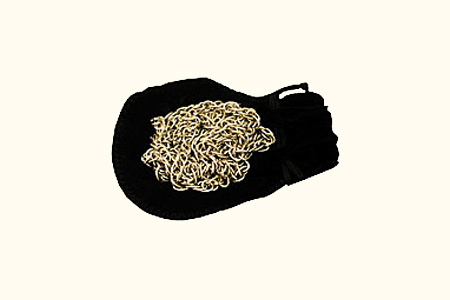 Description
Grâce à cette chaine de qualité, vous proposez un jeu de hasard interactif à votre spectateur !
En effet, vous disposez la chaine sur une table de manière à former un rectangle avec une croix à l'intérieur !
Vous vous retrouvez avec 4 triangles à l'intérieur du rectangle !
Seulement les triangles de gauche et de droite nous intéressent pour ce jeu !
Demandez à votre spectateur de poser son doigt dans un des triangles en question, si lorsque vous tirez sur la chaine cette dernière s'évade vous gagnez votre pari, dans le cas contraire le spectateur l'emporte !
Vous serez en mesure de contrôler le jeu et sortir gagnant à chaque fois !
Vous pourrez jouer de l'argent comme pour un bonneteau, si vous le souhaitez !
Vous aurez plusieurs options de présentation grâce à cet accessoire diaboliquement efficace !
Effet ultra visuel
Facile à faire
Jeu de hasard drôle et interactif
Faisable entouré
Tout est examinable
Reset instantanée
Idéal pour le table à table
Dimensions de la chaine : Longueur : 78 cm
Livré avec une sacoche de transport
Livré sans notice
Il est conseillé de se procurer le DVD : "DVD The Secrets of The endless Chain" afin

Retour au catalogue


Nous vous conseillons avec ce produit :
1.
DVD The Secrets of The endless Chain
22.5 €