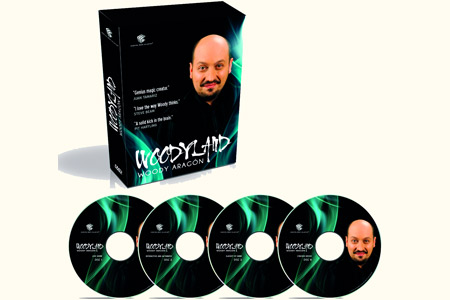 Description
Woody Aragon est doté d'un esprit remarquable. Il créé des miracles automatiques avec des cartes, des routines qui sont à couper le souffle et en même temps divertissantes. Ces dernières années, Woody Aragon s'est taillé une solide réputation grâce aux compétitions qu'ils a remportées partout en Europe. Voici ses routines entièrement expliquées au travers de 4 DVD.



Au Sommaire :
Disque 1
:
Contient son numéro entier au Lagrimas Hotel à Coimbra. Le spectacle contient les classiques de Woody : Blessed Poker, Oil & Water, Follow The Leader, Divination Ring, son incroyable routine d'épellation, Bumblebees qui a été primée, et bien d'autres encore. Woody explique chaque routine ainsi que la construction de son spectacle.
Disque 2
:
Le 2e DVD se concentre sur la magie interactive et semi-automatique. Cela comprend The Other Half, Man with Three Hands, Australian Poker, The Impossible Sum, Weighing the Cards et l'étonnante version automatique de l'ACAAN de Woody. Si vous cherchez un miracle automatique, il se trouve ici.
Disque 3
:
Détaille des routines nécessitant un peu de manipulations comme Progressive Order, Torn Corner Ambitious Card, Gabi's Switch, Covered False Shuffle, Dorset et Triumph.
Disque 4
:
Aborde le travail de Woody sur les chapelets avec des routines incroyables telles que Si Stebbins, Si Senor, Si Fry, The Mentalist, et sa routine primée d'épellation, un petit bijou qui va vous épater.
Également incluse, une interview de Woody où il parle de sa vie, de son oeuvre et de ses inspirations.
Woodyand est en anglais, sous-titré en quatre langues : anglais, espagnol, français et japonais. Filmé en HD au Portugal par Luis de Matos Productions.
4 DVDs Multilangues
Durée Totale 10h03
Des effets, idées et routines époustouflantes
Par l'incroyable magicien Espagnol : Woody Aragon
Produit par Luis de Matos : Essencial magic collection (EMC)

Retour au catalogue