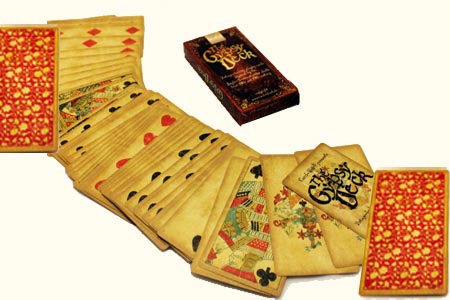 Description
Imaginez un jeu fabuleux qui nous vient du passé !
Ce jeu au format tarot (60 x 110 mm) a un aspect vieilli, il est inspiré des jeux Anglosaxons du XVIII et XIXème siècle.
Il comporte un marquage au dos qui vous permettra de réaliser des miracles ! Vous serez capables de repérer toutes les cartes du jeu sans les retourner... Imaginez le pouvoir de mentaliste que vous offre ce jeu magnifique !
Format tarot (60 x 110 mm)
Marquage très discret
Jeu de 54 cartes
Aspect très ancien

Retour au catalogue


Nous vous conseillons avec ce produit :
1.
The Gypsy Curse (DVD + Gimmick)
29.5 €

2.
Corner of Picadilly
24.9 €

3.
Extension du jeu Gypsy (Marqué)
19.5 €