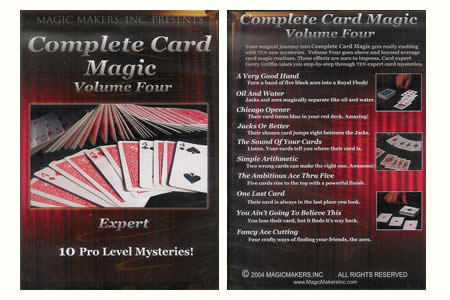 Description
Ce Dvd tiré de la Collection 'Complete Card Magic'
(véritable encyclopédie cartomagique en Dvd, que vous soyez débutant ou expert)
vous fera découvrir les bases de la cartomagie.

Chaque thème est traité dans sa totalité!
Une collection et un Dvd unique par son contenu!
Dvd Complete Card Magic Vol 4 :
A Very Good Hand : Transformez une main de 5 as sans couleur en quinte flush royale !


Oil and Water : Les valet et les as se séparent comme l'eau et l'huile.


Chicago Opener : Les cartes choisies dans un jeu bleu deviennent rouges.


Jacks or Better : La carte choisie saute .


The Sound of your Cards : Ecoutez, les cartes vous disent où est celle que vous recherchez.


Simple Arithmetic : 2 cartes au hasard se tranforment en la carte choisie.


The Ambitious Ace Thru Five : 5 cartes remontent en haut du paquet avec un final ahurissant.


One Last Card : La carte que vous cherchez se trouve certainement au dernier endroit où vous regarderez !


You Ain't Going to Believe This : Vous perdez la carte choisie dans le jeu, mais elle trouve inexorablement un moyen pour revenir à vous.


Fancy Ace Cutting : 4 façons originales de retrouver vos bons amis les as.
Dvd en anglais.

Retour au catalogue
Cet article n'est
plus vendu sur Magicaplanet