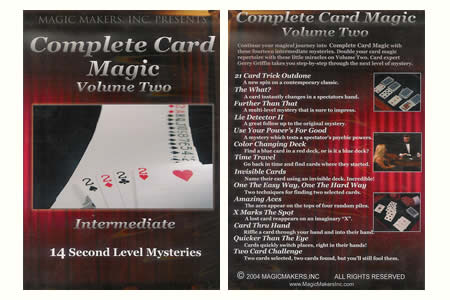 Description
Ce Dvd tiré de la Collection 'Complete Card Magic'
(véritable encyclopédie cartomagique en Dvd, que vous soyez débutant ou expert)
vous fera découvrir les bases de la cartomagie.

Chaque thème est traité dans sa totalité!
Une collection et un Dvd unique par son contenu!
Dvd Complete Card Magic Vol 2 :
21 Card Trick Outdone : Une nouvelle version d'un classique contemporain.


The What? : Une carte change soudainement alors qu'elle est dans la main d'un spéctateur.


Further Than That : Un énorme mystère à tous points de vue qui impressionnera à coup sûr.


Lie Detector II : La suite d'un des tours les plus originaux.


Use Your Powers For Good : Un tour qui permet de tester les capacités psychiques d'un spectateur.


Color Changing Deck : Trouvez une carte rouge dans un jeu bleu. Ou alors était ce un jeu rouge ?


Time Travel : Voyagez dans lez temps et retrouvez les cartes là où elles étaient au début.


Invisible Cards : Trouvez la carte choisie grâce à un jeu invisible !


One the Easy Way, One the Hard Way : 2 techniques pour retrouver 2 cartes.


Amazing Aces : Les 4 as apparaissent en haut de 4 piles faites au hasard.


X Marks the Spot : Retrouvez la carte perdue grâce au 'X'.


Card Thru Hand : Faites passer des cartes à travers vos mains et celles du public.


Quicker than the Eye : Les cartes se téléportent de votre main à celle d'un de vos spectateurs !


Two Card Challenge : Deux cartes sont choisies et perdues dans le jeu. Vous les retrouvez. Mais vous pouvez aller plus loin !
Dvd en anglais.

Retour au catalogue
Cet article n'est
plus vendu sur Magicaplanet