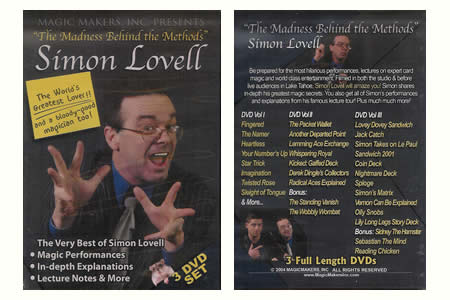 Description
Set de
3 DVDs de Simon Lovel
. Ce grand nom de la magie mondiale vous présente à la fois sa conférence mondiale et ses meilleurs tours. Ces DVDs ont été tournés en studio et en conditions réelles devant un public !
Volume 1 :
Fingered , The Namer, Heartless, Your Number's Up, Star Trick , Imagination, Twisted Rose, Sleight of Tongue & More...
Volume 2 :
The Packet Wallet, Another Departed Point, Lemming Ace Exchange, Whispering Royal, Kicked: Gaffed Deck Derek Dingle's Collectors, Radical Aces Explained, & Bonus: The Standing Vanish & The Wobbly Wombat
Volume 3 :
Lovey Dovey Sandwich , Jack Catch , Simon Takes on Le Paul , Sandwich 2001, Coin Deck , Nightmare Deck, Sploge, Simon's Matrix, Vernon Can Be Explained, Oily Snobs, Lily Long Legs Story Deck, Bonus: Sidney The Hamster & Sebastian The Mind Reading Chicken .
DVDs en Anglais

Retour au catalogue
Cet article n'est
plus vendu sur Magicaplanet